ABOUT THE TOWER BAR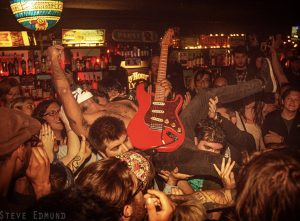 The Tower Bar
4757 University Avenue
San Diego,CA 92105
(619) 284-0158
E-mail: thetowerbar@gmail.com

View Larger Map
HAPPY HOUR IS 4 TO 7 DAILY. $1 OFF ALL DRAFTS & WELL DRINKS.
Business hours
4 p.m. to 2 a.m. every day. TEMPORARY HOURS 4 PM to at least 11 AM, and 2 AM on Fridays and Saturdays.
A San Diego landmark, built in 1932. Home of the Pabst-Smear (1/2 Guinness and half Pabst), the Hello Kitty Fart and the Cherry Limeade. We have the largest selection of genuine Absinthe in San Diego including La Fee, Emperor Norton, Lucid & St. George which we prepare in the traditional French method using an Absinthe water fountain.
Past performers at The Tower include:
KING KAHN and BBQ, THE SPITS, THE BLACK LIPS, THE VIBRATORS, THE VARUKERS, LOWER CLASS BRATS, WYLDLIFE, DIRTY FENCES, MEAN JEANS, THE FREEZE, THE COATHANGERS, THE GROWLERS, MASKED INTRUDER, M.D.C.THE HEARTACHES,THE MORLOCKS, THE SOFT PACK, U.S. BOMBS, GANG GREEN, THE WOGGLES, DIABLO DIMES, CASH'D OUT, GRAND OLE PARTY, MARKY RAMONE, THE STITCHES, THE WONGS, TRISTEZA, THE HUSBANDS, BEEHIVE & THE BARRACUDAS, MR TUBE & THE FLYING OBJECTS, THE SULTANS, PEARS, LOS MANITAS DE FUZZ, VERBAL ABUSE, GENERACION SUICIDA, RIISTETYT, WAU Y LOS ARRRGHS, WORRIERS, KIM & THE CREATED, CALL THE COPS, RED CITY RADIO, THE DECLINE, CLOWNS (AUSTRALIA), MIKE VALLELY, THE UNDEAD, WIMPY RUTHERFORD, (THE QUEERS), HEWHOCANNOTBENAMED, THE PICTURE BOOKS, ACEYALONE, BAD COP/BAD COP, CLOWN SOUNDS, VACATION, TREASURE FLEET, THE HIP PRIESTS, DAIKAIJU, THE FORNICATORS, PKEW PKEW PKEW, GRADE 2, THE MUSLIMS, DECRY, THE RED ONIONS, THE NASHVILLE RAMBLERS, GLEN MEADMORE, SHATTERED FAITH, THE CROWD, THE SLOTHS, BRENDAN KELLY, WOLVES & WOLVES & WOLVES & WOLVES, BEST COAST, THE CREEPY CREEPS, RETOX, Haunted George, The Marked Men, Omar and The String Poppers, SHED, 400 Blows, UNCLE JOE'S BIG OL' DRIVER, LADY DOTTIE & THE DIAMONDS, OFF WITH THEIR HEADS, Redgun Radar, FATSO JETSON, THE FREEKS, THE GO GETTERS, Prima Donna, DAN SARTAIN, This Bike is A Pipe Bomb, Rip Carson, The Lamps, The Deere Johns, The Power Chords, Mario Escovedo, Mannequin Piss, Danava, The Love Me Nots, The Corvinas, Her Grace The Duchess, Charlie Megira, CASH'D OUT, Triclops, Sleeping People, The Earl Brothers, The Intelligence, Lloyd Trip & The Zip Guns, Arsen Roulette and the Ricochettes, Bunky, Bartender's Bible, The Hexxers, Heavy Hawaii, Cheap Curls, Underground Railroad to Candyland, Colleen Green, Spider Fever, Los Sweepers,Death Hymn #9, Joy, The Lumps, Stephen Rey & The Slicks Jungle Fever, The Paperhead, Thee Cormans, Mothers Worry, Writer, Billy Rath (Johnny Thunders), Christmas Island, Los Headaches, The Regressions, Los Vigilantes, Cyclops, Guantanamo Baywatch, Acid Baby Jesus, Rat City Riot, Terry Malts, Night Nurse, King Louie's Missing Monuments, Blood On The Saddle, The Shag Rats, The Neumans, Skelator, RVIVR, Creepoid, Cosmonauts, Tomorrows Tulips
…